Inlägg från engelska bloggen och Linkedin. Därav på engelska.
So now it starts! Amazon is live with its Swedish site. Let's track the performance of it in Swedish Google over time in this continuously updated article. [UPDATED 11.11.2020]
Amazon Sweden Google ads
Week 1
Amazon.se began buying Google ads in Sweden now. This is what it looks like today. I guess there will be a lot more tomorrow. And more next week. Let's see how this affects click prices and CPC traffic in Sweden in the upcoming weeks.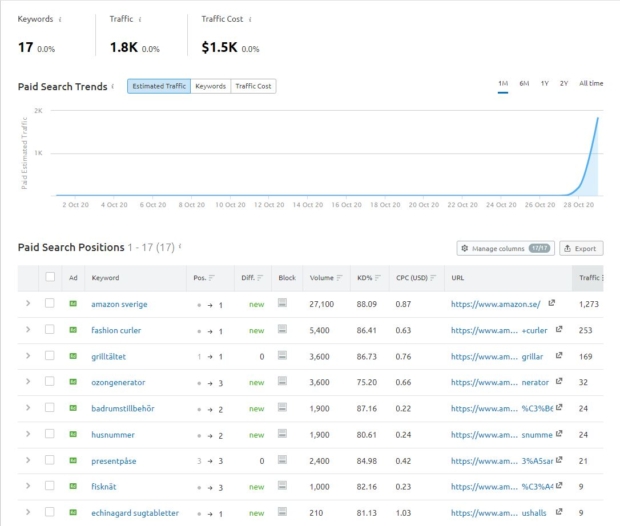 In Organic they have not really started to get any rankings yet, but Google Ads is an extremely fast scaling channel if your site works and you have a budget. And at least the latter is true in this case.
I will keep posting at least one comment per week about Amazon's Google ads and organic visibility here.
Week 2: Amazon Sweden Google
What kind of Google Ads does Amazon.se run now when being live in Sweden? Here is the simple truth after analyzing 100 ads: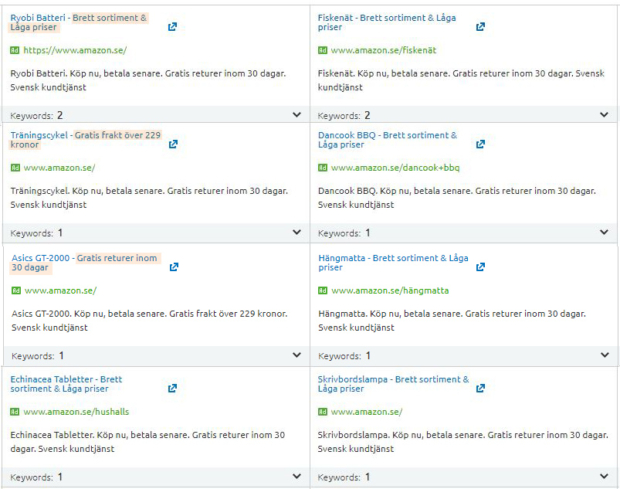 The ads are simple and most likely very automatically generated.
It is always [keyword] and then one of 3 USP's.
The 3 USP's are:

"Brett sortiment & Låga priser"
"Gratis frakt över 229 kronor"
"Gratis returer inom 30 dagar"

The description seem to be the same all the time:

"[Keyword]. Köp nu, betala senare. Gratis returer inom 30 dagar. Svensk kundtjänst".
(Sometimes it contains "Gratis frakt över 229 kronor" too, but otherwise the same all the time).
So, they seem to be buying ads on a wide range of keywords, both cheap and expensive ones, and generate ads in the same way all the time.
Probably these are USP's that have been working in other markets, and thus they create them in the same way here.
Let's see what this looks like when there are more than 100 analyzed in a few days.
Next update on Amazon.se will be around the organic visibility, so be sure to follow me on Linkedin to not miss anything.
Amazon Sweden Google Organic visibility
Week 1
How is the organic visibility developing after launching in Sweden? Let's check: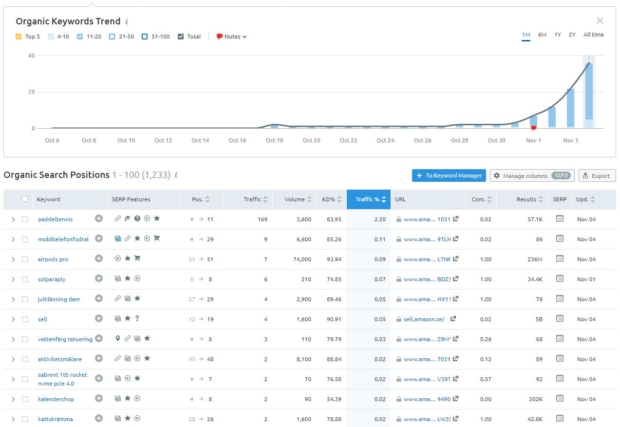 Week 2
The .se domain started to get some organic visibility in mid-October. It really started to increase in visibility in November, being visible on 2382 keywords in Sweden now (according to SEMrush database), and growing quite fast, being 1200 on Friday.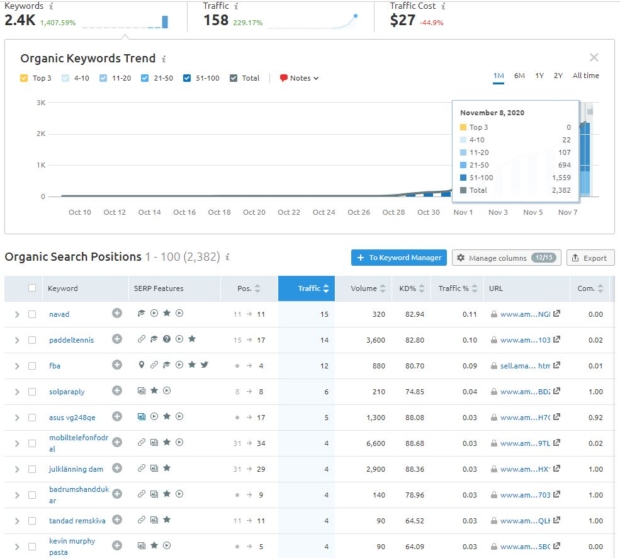 Compare this to the .com-site, the English version of Amazon, which is visible on 1.8 million keywords in Sweden. Or to the the 180 000 keywords where Elgiganten is visible. Or the 417 000 keywords where Cdon is visible.
When will Amazon.se surpass these in visibility?
And will it ever reach the same amount of keywords that the .com domain is visible for, considering the more limited amount of products available in the Swedish store?
I guess it will close in on the large Swedish e-commerces still this year in the number of keywords totally. But it will not reach the .com site's amount of keywords for a while, neither will it grab as many top 3 positions as the large Swedish e-commerces have still for a long time.
They do not use hreflang linking between languages where they have the same product or category in both stores, which could have speeded up the rankings of the Swedish site and sacrificed the .com site. This could have been smart to do, but probably technically extremely complex since the stores in different markets are different stores, not only language versions.
Stay tuned for more Amazon Sweden Organic and Paid updates here or on Linkedin.
Do you wanna be able to do these kind of reports and investigations yourself? They are all made with SEMRush, the enterprise SEO and marketing toolkit. With this link you get a 7 day free trial if you want to try it out yourself!